Synthetic Turf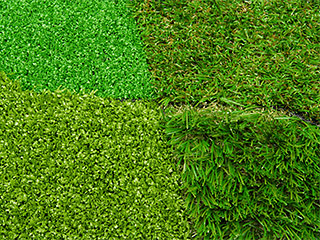 Keeping your lawn clean, healthy and lush can be costly since you have to perform regular mowing, fertilizing, and cleanups. Another factor that contributes to expensive lawn maintenance is irrigation. A typical lawn requires at least 1" of water per week during dry season. But other grass varieties may need to be irrigated more frequently, which can result in higher monthly water bills. This issue is the usual reason why some property owners are not eager to develop their vacant outdoor spaces into beautiful and functional lawns. If you also have the same concern, we have a solution for you. You can opt for artificial turf to dramatically reduce your maintenance cost. This alternative is becoming a popular option not only in residential areas but also in commercial and public spaces.

But installing an synthetic turf is not as easy as counting 1-2-3. You need skills and experience to ensure the efficient installation of the turf. You may also need special installation tools and equipment for expansive outdoor areas. Quality is also an important factor that you have to consider, since there are some turf products that may not last long. The best option for you is to just look for experienced turf installers like us at Legacy Pavers, LLC. Our company has been in the hardscaping and landscaping business for more than 25 years, so we have the skills and expertise in this particular area of outdoor improvement. In fact, we have installed hundreds of acres of synthetic turf in Apopka and other areas in Central Florida. Call us now at (407) 645-3855 and let us discuss with you our turf products and installation terms.


Outstanding Benefits of Synthetic Turf
Synthetic grass offers a lot of great benefits. It will not only reduce your water consumption but also make your maintenance effort easier and worry free. In fact, all of our previous clients are now enjoying the benefits of their maintenance-free lawns.

Here are some of the benefits that you'll get when you opt for synthetic turf:


no more weekly mowing and trimming
no need to apply fertilizers
water use is dramatically lowered or reduced to zero
no more worries about resodding or seeding
pest and insect infestation is avoided
the lawn area becomes safer for kids and pets
Topnotch Synthetic Turf Products
At Legacy Pavers, LLC, we are committed to give our clients top-quality and innovative products that can last a lifetime. We make sure that our artificial turf is sourced only from reliable and reputable manufacturers and suppliers in the country. We follow a careful selection process to get products that conform to industry standards. With this approach, we can guarantee clients like you with top-quality turf products.

Our artificial turf is virtually maintenance-free since you don't have to perform the usual lawn maintenance tasks. As mentioned, synthetic turf doesn't require irrigation, mowing, fertilizing, and other lawn care tasks. However, you may still perform lawn cleanups from time to time to free your lawn from fallen leaves and other debris.

Meanwhile, our synthetic turf products have these qualities:


made from the finest raw materials
UV and color-fade resistant
soft to the touch
mimic the look of natural grass
safe for kids
durable and long-lasting

Synthetic grass is a flexible material since it can be installed in any type of property. Whether you have a small or large lawn area, installing an artificial turf is always the best solution. Contact us now to get more information about our turf products, installation fee, and other landscaping services.