Fire Pit & Fireplace
There is something very alluring about outdoor living and we at Legacy Pavers are the proven experts in this field. We have proved our skill with designing and installing the best outdoor spaces and have created the most stunning effects of properties across Wekiva Springs, Forest City and Lockhart with outdoor kitchens, patios, poolscapes, decks etc.


Well-Balanced Design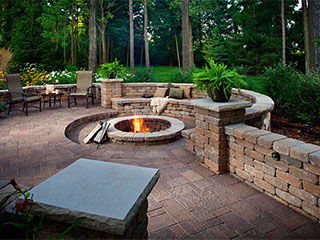 A well-balanced landscape is always a combination of a number of elements such as softsacaping, hardscaping, water features, stone accents, decorative pieces and fire pits and fireplaces. The latter two are the fire element and create spaces that turn into veritable comfort zones on your property. The minute you install a fireplace or a fire pit anywhere in the outdoor spaces of your home, it encourages you and your family to use these areas more. In effect, it increases your ROI and adds to the value of the property.


The Specialized Task
But design and installation of fireplaces and fire pits is a specialized task and not something that a novice should be handling. We have a lot of experience with creating the most arresting fireplace and fire pit installations in and around Apopka, FL. In addition to installing the actual features, we also have the expertise and resources to design and install retaining walls with built-in seats and can pave these areas.


Fireplaces
Materials - These could be made of concrete, stone or brick. Natural stone and brick have a beautiful finish and do not have to be rendered further. If you want a concrete fireplace, we can built it for you with the accents you like


Design and Styling - The Design and style will be matched to the styling of the surrounding spaces and we will also ensure that it matches the styling of your home


Dimensions - the dimension of the fireplace is a very important factor that has to be taken into consideration. If the space where it is going to be installed, is small, we recommend that a smaller fireplace be installed and vice versa. There has to be sufficient space for seating around the fireplace too


Fire Pits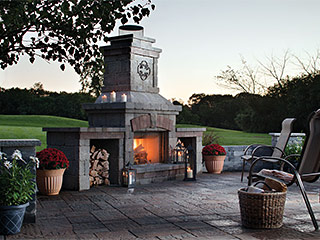 Materials - These are an amazing way to add perspective to the landscape and they easily become the focal point of the garden or yard. These too can be made with concrete, brick or natural stone


Design & Styling - Again, when we install fire pits, we ensure that they blend in well with the surrounding areas. If they are in the middle of a garden, we will match it to that style. If they are very close to your home, we will ensure that it complements the structure of our home


Dimensions - As a rule, fire pits are not very large, but we can build them as per your requirement. We also install fire pits of different shapes as required


Regardless of whether you want a fireplace or fire pit on your property, we will design and install it to perfection. You can contact Legacy Pavers with your requirement on Legacy Pavers on 407-645-3855 or via this online form