Paver Pool Decks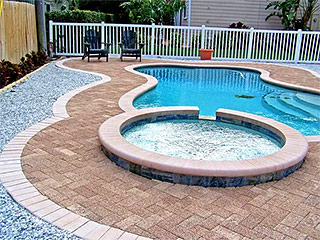 Numerous homes across Wekiva Springs, Forest City and Lockhart sport beautiful swimming pools and the spaces around them are also designed to perfection. Pools can be either above-ground or in-ground ones and the former will generally have deck areas around them. These spaces always have a lot of water due to their proximity to the pool, which up the risk of accidents due to slipping. The simplest and best way to reduce this risk is to have paver pool decks.


Opt for The Best
Pavers are a very versatile material and are available in concrete, natural stone and brick and the range of colors, designs, styles, shapes and sizes is almost unlimited. They are easy to install and maintain and many of them also have textured surfaces. All these aspects make them perfect for pool deck areas. Legacy Pavers are the undisputed leaders in this space and we can provide you with a wide variety of pavers such as: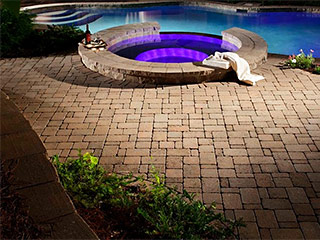 12x12 Slabs
Antiqued Paver
Cambridge Cobble
Appian Grande & Appian Stone
Aqua-Bric & Aquaflow
Colony & Corinth
Bergerac & Bergerac Circle
Classico
Eco Dublin & Eco-Holland
Holland Paver Tile
Dublin Cobble & Dublin Domino
Urbana Paver Tile & Urbana Stone
Old World Paver
Others
The Customization Factor
Since you have so many options to choose from, your poolscape can be unique and different from all the properties around you. When you approach us with your requirement, we understand what your specific needs are and provide you with customized solutions that fit in perfectly with your budget.

We also ensure that all the design aspects are planned to perfection and that the installation is up to mark in terms of engineering and the materials use. We focus on providing our customers with quality on all fronts and never cut corners at any cost. The Benefits you enjoy with Paver Pool Decks: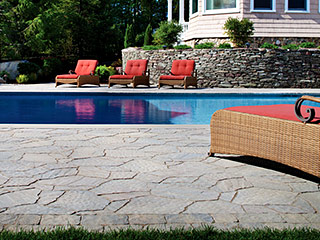 Aesthetics - The pavers look amazing & the space looks elegant and unique


Strength - They are strong & durable. We use special installation techniques & ensure that the pavers are carefully sealed


Low Maintenance - Simple power-washing is all that is required to keep them looking new


Non-Slip - Since these elements can be textured, Paver Pool Decks provide very good traction


Repair - In case any damage occurs, it is possible to repair them with the least amount of hassle. They are also very easily available and matching the look is not difficult with replacement of individual units


Cost-Effective - Since installation is simple and they are strong and durable, and only basic maintenance is required, they become a very cost-effective option in the long term


The only thing that you have to ensure is that the installation is carried out in an expert manner. And when Legacy Pavers handles that job for you, you are assured that the best materials and most skilled labor will be used to complete the work to perfection. For the best Paver Pool Decks contact us on 407-645-3855 or via this online form.