Flagstone
Heritage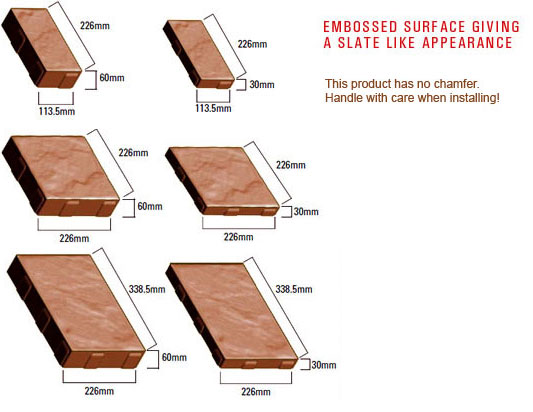 HERITAGE
2 3/8", 1 3/16" *
THICKNESS
4 1/2" x 8 7/8"
8 7/8" x 8 7/8"
8 7/8" x 13 3/8"
DIMENSIONS
Specs

Surface is embossed with slate like surface.
Non chamfered edges. Blind spacer bars.
Square footage by shape, small rectangle 32.5%, square 30%, large rectangle 37.5%.
13-4 1/2" x 8 7/8", 6-8 7/8" x 8 7/8", 5-8 7/8" x 13 7/8" per layer, 11 sq. ft. per layer.
Available only as 3 piece collection.
See product chart for English square footage and other information.
See Product color run sheet for available colors.
30mm thickness for overlays of existing pedestrian hard surfaces only.

* English measurements are nominal. Exact dimensions are shown metrically as installed measurements.