Flagstone
GrottoStone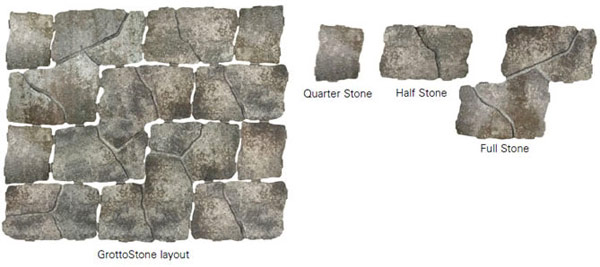 Flagstone's GrottoStone paver is comprised of fourteen different and uniquely styled concrete paving stone perfectly designed for creating the quintessential olde world look. GrottoStone is available in a wide palette of color blend choices and is a great option for any hardscape project! If you like the look of natural stone paving and preferences lean toward greater natural randomness, then you love GrottoStone! When it comes to upgrading your exterior hardscape space with a look that can't be copied – look no further than GrottoStone. Comprised of an ample number of quarter, half and full sized elegantly textured stones with many different false groove arrangements, no two GrottoStone projects are laid in identically alike patterns. When you want that super rich looking, yet affordable paver project – pick GrottoStone. GrottoStone is the most economical, 80mm thick, natural looking paving stone system available. GrottoStone can also be used over a permeable pavement base installation on environmentally friendly "green" projects. Use polymeric sand in a color to compliment the color blend of your GrottoStone for an even more impressive look. Contact the Flagstone Paver Hardscape Consultant in your area for further assistance.


GROTTOSTONE
3 1/8" *
THICKNESS
N/A
DIMENSIONS
Specs

Surface is embossed.
Non chamfered edges. Blind spacer bars.
9.8 sq.-ft. per layer (14 Pieces).
See product chart for English square footage and other information.
See Product color run sheet for available colors

* English measurements are nominal. Exact dimensions are shown metrically as installed measurements.