Flagstone
BrookStone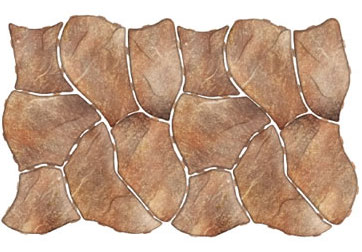 The BrookStone Paver, available only from Flagstone Pavers, is a fluid blend of seven uniquely shaped and individually different concrete paving stones styled to emulate natural stone.

BrookStone is available in a wide range of beautiful color blends and is designed to be the ideal choice when it comes to fulfilling ones desire for natural stone looking driveways, pool desks, patios, and pathways! BrookStone is installed using typical paver installation methods – making it a very economical option compared to natural stone installations.

You are sure to be the envy of your family, friends, and neighbors when they see and experience areas hardscaped with this non-traditional concrete paver product. The combination of the subtle slate-like textured surface, smooth curving edges and gorgeous colors transform any space into one you've always dreamed about.

To add a beautiful final touch to your project use polymeric sand in a color the compliments the color blend of your BrookStone. Contact the Flagstone Paver Hardscape Consultant in your area for further assistance.


BROOKSTONE
2 3/8" *
THICKNESS
N/A
DIMENSIONS
Specs

Surface is embossed with slate like surface.
Non chamfered edges. Blind spacer bars.
7.5 sq.-ft. per layer, 2 sets of 7 pieces per layer.
See product chart for English square footage and other information.
See Product color run sheet for available colors.

* English measurements are nominal. Exact dimensions are shown metrically as installed measurements.