Artistic Pavers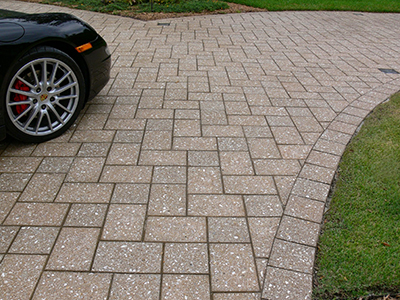 Roadlock
Interlocking pavers for vehicular applications.

Make a "Welcome to My Home" statement by choosing the same Artistic Pavers quality for your driveway. Roadlock® driveway pavers have a stunning look and are a refreshing change to the old concrete driveways. Its polished and smooth surface adds beauty to any project. Our high-quality driveway pavers will redefine your concept on how to keep your driveway looking its best. Built with the latest technology, they are durable and require very little maintenance. Choose from a classic pattern or create your own. Mix and match colors to express your style and preferences. The end result will be an elegant entrance, while also enhancing the value of your property.

* Due to high product demand, lead times may be extended.
Consult your sales representative for more information.



Colors

Dark Chocolate

Golden Brown

Silver Sam

Ivory

Tan
Sizes
Paver | Thickness : 2-3/8"
| | |
| --- | --- |
| Nominal Size: | Actual Size: |
| 8" x 8" | 200 x 200 mm x 60mm |
| 8" x 12" | 200 x 300 mm x 60mm |
| 12" x 12" | 300 x 300 mm x 60mm |
Paver are calibrated to achieve a uniform thickness of an approximately 2-3/8".
Artistic Pavers products are manufactured in metric sizes and are rounded to the closest size equivalent in English Units.null
Because of color dye and natural raw materials inconsistencies, products will have color shade and texture variations.
Please expect variations in colors and some chipping and non-perfect edges. These details are intended to enhance the appearance of our pavers.
Pavers should be installed from several pallets at a time to maintain the best color consistency.
Due to the diversity in the natural aggregates used to make our pavers, the difference in aggregates in each plant and other elements beyond our control, the colors seen on printed material or published on our website may not exactly match the exact color of the paver. Before you make your decision, we recommend verifying your selection at your local Artistic Paver retailer.
Packing Specs
| | | | |
| --- | --- | --- | --- |
| Size: | Pieces per Pallet: | Sq. Ft per Pallet: | Weight Per Pallet: |
| 8"x8"x2-3/8" (200x200x60mm) | 264 | 117 | Aprox. 3,208 lbs |
| 8"x12"x2-3/8" (200x300x60mm) | 176 | 117 | Aprox. 3,208 lbs |
| 12"x12x2-3/8" (300x300x60mm) | 132 | 132 | Aprox.3,564 lbs |
Coping will be slighty smaller than nominal size due to the process required to manufacture them. Please refer to the size listed on the product list.