Artistic Pavers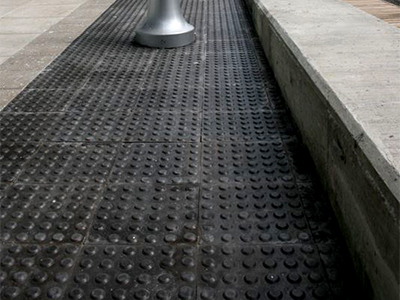 Detectable Warning Pavers
Warning paver for pedestrian applications.

Our detectable warning pavers, also known as tactile pavers, have a distinctive pattern of truncated domes detectable by long cane or underfoot. They are used to assist people with vision impairments of impending hazards, vehicular dangers or ground surface changes.Artistic Pavers® manufactures detectable warning pavers in the size 12"x12" with a 1-5/8" thickness. Custom colors are available to complement the uniqueness of any project.

Please call us for pricing.



Colors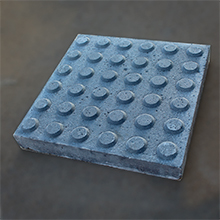 Charcoal
Sizes
Paver | Thickness : 2-3/8"
Nominal Size:
Actual Size:
12" x 12 x 1-3/4" Paver
300mm x 300mm x 40mm
(not including warning nodules height)
Paver are calibrated to achieve a uniform thickness of an approximately 1-5/8".
Artistic Pavers products are manufactured in metric sizes and are rounded to the closest size equivalent in English Units.null
Because of color dye and natural raw materials inconsistencies, products will have color shade and texture variations.
Please expect variations in colors and some chipping and non-perfect edges. These details are intended to enhance the appearance of our pavers.
Pavers should be installed from several pallets at a time to maintain the best color consistency.
Due to the diversity in the natural aggregates used to make our pavers, the difference in aggregates in each plant and other elements beyond our control, the colors seen on printed material or published on our website may not exactly match the exact color of the paver. Before you make your decision, we recommend verifying your selection at your local Artistic Paver retailer.
Packing Information
| | | | |
| --- | --- | --- | --- |
| Size: | Pieces per Pallet: | Sq. Ft per Pallet: | Weight Per Pallet: |
| 12"x12"x1-3/4" (300x300x40mm) | N/A | 180 | Aprox. 3,255 lbs |