Artistic Pavers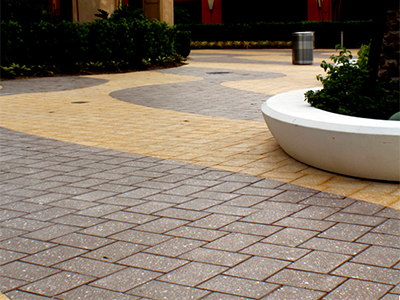 Custom Pavers
DESIGN CENTER
By Artistic Paver designers, for designers

Artistic Paver Mfg.® wants to empower you, the designer, with a truly artistic approach to custom landscape architecture. For large projects, typically above 10,000 square feet, our designers can work with you to create a signature paver that will make your project stand out from the crowd. We will help you develop a paver that will incorporate colors, aggregates, imprints, embossed shapes, lettering, including logos. Tell us what you want to achieve and we will work with you to make it happen. Explore our extensive line of custom paver designs and patterns and discover the perfect complement to your project's style. Our Design Team works directly with architects and landscape architects to create custom paver designs to match your inspiration.

Sign in to our Design Center and let your imagination guide you! »

Whether you desire a subtle pattern flowing over a commercial plaza, or an upscale and intricate design for a 5-star hotel, we generate a computerized 3D rendering of the project. This complimentary 3D rendering is a great tool for architects to show to their customers as part of their pitch deck. In addition to that, we may provide a printed photo book with all imagery illustrating the creative process behind the creation process of your exclusive paver.

Artistic Paver Mfg.® can customize coping and pavers to just about any large project. We want to empower you, the designer, to choose your hardscape design so that your hotel, shop or new building can stand out from the crowd. Previously satisfied clients we have worked with in the past include: Fontainebleau Resorts®, Hilton Homes®, William Lyon Homes®, Toll Brothers - America's Luxury Home Builder®, Renaissance Orlando Resort at Seaworld, and Wynn Hotels®, just to mention a few.



Colors
Below are some custom imprint examples.


| | | |
| --- | --- | --- |
| 12"x12" 3C3C-00143 | 16"x16" 4C4C-00128 | 4C4C-00128 Blue Wave |
| 4C4C-00128 Ivory Wave | Custom Logos | |

Samples of custom pavers that can be manufactured for your project.


| | | | |
| --- | --- | --- | --- |
| Light Blue Shellock® | Conch Shells | Black Shellock® | Glass & Shell, No Bevel |
| Green Glass | Light Green Shelloc® | Blue Glass | Blue Shellock® |
| Pink Conch Shells | Black Pearl Shellock® | | |

How would you like to provide your Customers with a unique product that meets all their needs with a wide range of options to meet the challenge of any project? A product that combines beauty and functionality, that will absolutely add value to your project and make it unique. Artistic Paver Mfg.® can provide you with such a product. Work with our team and create a signature paver that will make your project standout from the common. Artistic Paver Mfg.® not only can customize colors and aggregates, but we can add imprints or even a custom engraving to enhance the beauty and uniqueness of your project.

Typically, a minimum of 10,000 square feet is required for custom orders.

Contact us for more information!