Artistic Pavers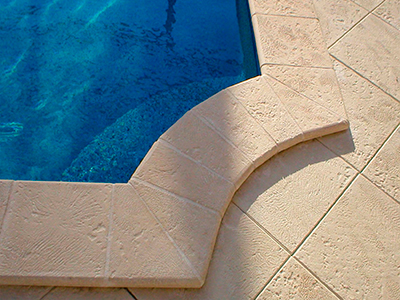 Coping
Perfect for every detail in your deck! Coordinates with Artistic Paver decking material.

Artistic Paver's coping and specialty pieces are ideal for decorative uses such as pool coping, raised walls, steps, spillways, fountains, benches, planters and more. Coping is available in all Steplock® decking styles. This ensures that materials used for architectural solutions will coordinate with the Artistic Paver decking material.



Options
The coping images on this page are shown to clarify the bullnose position as well as to indicate where to use them on your project. Please to view the product below to choose style and color. Coping and specialty coping pieces are available in all standard styles.



Shellock Ivory - Single Sided
Used on pool borders and rounded steps.

Shellock Ivory - Double Sided
Great for pool, benches, spa borders.

Shellock Ivory -Three Sided
Most used on spa spill overs borders, stairs, paver benches.

Shellock Ivory - Four Sided
Good as in-pool stepping pavers paver plantations, and more.

Shellock Ivory -Adjacent Sided
Perfect for spa corners and decorations

Shellock Silver Sam - Pre-cut Spa
The Pre-Cut coping is designed to be installed in a 7ft diameter spa. The total number of pieces to complete a full circle is 87 for any of the sizes of coping.

Shellock Ivory 5 Face - Renovation
Renovation coping installs directly on top of the existing overpour or coping material, allowing you to top an existing cracked deck without removing it
Sizes and Profiles
Profile:
Nominal Size:
Actual Size:
Single Sided:
4x8x1-5/8
4x12x1-5/8
4x16x1-5/8
24x12x1-5/8
16x8x1-5/8
12x12x1-5/8
16x16x1-5/8
24x24x1-5/8

3-21/32x7-13/16
3-21/32x11-3/8
3-21/32x15-11/32
22-29/32x11-3/8
15-5/32x7-13/16
11-3/16x11-3/8
15-5/32x15-11/32
22-29/32x23-7/32

Double Sided:
4x12x1-5/8
4x16x1-5/8
24x12x1-5/8
12x12x1-5/8
16x16x1-5/8
24x24x1-5/8

3-21/32x11-23/32
3-21/32x15-21/32
22-29/32x11-11/16
11-3/16x11-23/32
15-5/32x15-21/32
22-29/32x23-17/32

Three Sided:
4x16x1-5/8
12x12x1-5/8
16x16x1-5/8
24x24x1-5/8

3-7/8x15-21/32
11-23/32x11-3/8
15-21/32x15-11/32
23-17/32x23-7/32

Four Sided:
12x12x1-5/8
16x16x1-5/8
24x24x1-5/8

11-3/8x11-3/8
15-11/32x15-11/32
23-7/32x23-7/32

Adjacent:
12x12 x1-5/8
16x16x1-5/8
24x24x1-5/8

11-3/8x11-3/8
15-11/32x15-11/32
23-7/32x23-7/32

Renovation:
4x12x1-5/8
4x12x1-5/8
4x12x1-5/8

3-21/32x11-3/8, 3" FACE, 3-1/4
3-21/32x11-3/8, 4" FACE, 4-1/4
3-21/32x11-3/8, 5" FACE, 5-1/4

Pre-Cut Single Sided:
4x8x1-5/8
4x12x1-5/8

3-5/8x7-3/4
3-5/8x11-3/8

Pre-Cut Double Sided:
4x8x1-5/8
4x12x1-5/8

3-5/8x7-3/4
3-5/8x11-3/8

Straight Relaxed-Edge
One Sided:
4x12x1-5/8
12x12x1-5/8

3-5/8x11-3/8
11-1/8x11-3/8

Colors
| | |
| --- | --- |
| Corallock Ivory | Shellock Ivory |
| Shellock Tan | Shellock Cafe |
| Shellock Silver Sam | Granitelock Arctic White |
| Granitelock Sterling Gray | |